The Toronto Summit was a meeting of the heads of state and heads of government of the North Atlantic Treaty Organization in the episode Bombshell. It was the first international summit and first international trip of the Kirkman administration. Members of the administration who went were President Tom Kirkman, Secretary of State Cornelius Moss, and White House Press Secretary Seth Wright.
Agenda
Nuclear arms reduction
The new French ambassador brought up talking about nuclear arms reduction to the United States for NATO. That meant members of NATO were going to meet in Toronto.
The agenda of nuclear arms reduction was originally a priority of Cornelius Moss' second term as president when Tom Kirkman was talking about how important it was for Cornelius.
Leaders in attendance
When Kirkman and Moss are in the Secret Service Motorcade driving to meet the leaders, Moss tells Kirkman the main target to get the initiative working will be the Prime Minister of France, Justine Massett. Moss describes her that "she can be very prickly." The reason why is because the French wanted to bring up arms reduction privately, giving them the opportunity to criticize even if they support. Moss then tells Kirkman other leaders, such as German Chancellor Jonas Grottke who had been just re-elected and will be a strong ally. Also British Prime Minister Aruna Mahajan, the first British-Indian prime minister. She is described as fiercely independent and will also need to be convinced.
When President Kirkman meets with the world leaders, he tells them this initiative will lead to a more stable and secure planet. He also says the countries of Poland and Slovakia, who rely on "nuclear umbrellas" will be reassured with a guarantee of his word.
Controversies
During the summit, Abe Leonard's story on the New York Standard breaks out that Al-Sakar was not behind the Capitol Bombing. Kirkman tells Seth to tell the press that they're standing by their intelligence agencies and military officials.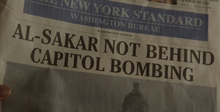 Kirkman knows he can't denounce the story because it's true. He tells that to Moss, and Moss is angry that he's been keeping this secret this whole time. Kirkman tells him that it's his responsibility to protect the American people and classified information. This story later becomes a problem in the NATO meeting and is known as a "headache" for Kirkman's presidency.
Aftermath
Kirkman later addresses NATO and tells them that his nations domestic issues shouldn't interfere with the global objectives. Both the French and the British agree to not support the initiative after Abe Leonard's story broke out saying Al-Sakar did not blow up the Capitol. The French Prime Minister said that the countries helped the US retaliate against the attacks, but only to predict on false pretenses. Both countries are not happy about it. The Nuclear Planning group later voted that it won't be putting the initiative on the agenda.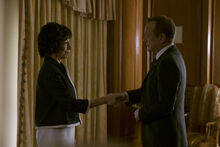 Later, Kirkman meets with Prime Minister Massett one-on-one. He tells her that the arms reduction is important to the NATO nations. He wants to gain her and France's trust. He reminds her that they must also keep Russia's nuclear ambitions in check and must work together on what world do they want to leave for their children. Massett agrees and decides to tell him to talk about it in the next summit.
Ad blocker interference detected!
Wikia is a free-to-use site that makes money from advertising. We have a modified experience for viewers using ad blockers

Wikia is not accessible if you've made further modifications. Remove the custom ad blocker rule(s) and the page will load as expected.